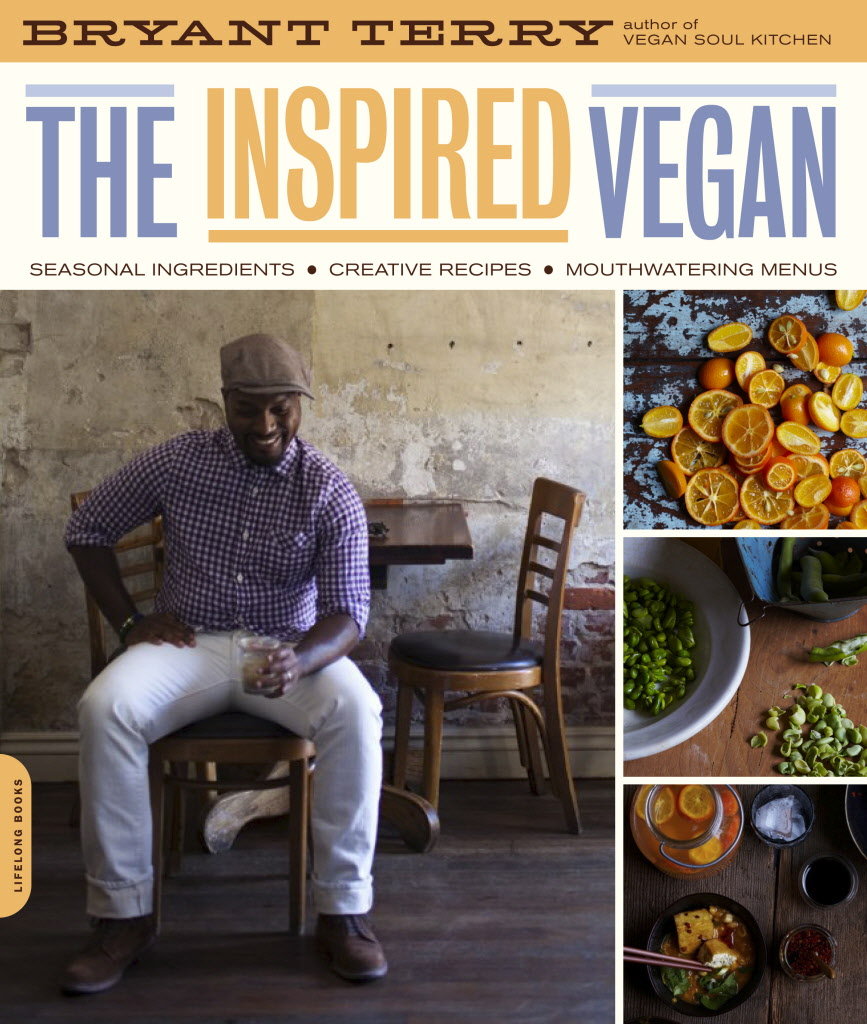 I believe I have expressed my fondness for
Bryant Terry on this blog before
, and his first cookbook
Vegan Soul Kitchen
is now somewhat of a classic (according to me.) SO when I heard he had come out with a new cookbook,
The Inspired Vegan
, I knew I had to rush out and get it. (And/ or, wait 6 months until I was back in the US to grab it.) Happily, while on my honeymoon I had the chance to go to one of my ALL-TIME-FAVORITE places in the whole country,
Charis
Feminist Bookstore in Atlanta, GA, and they happened to have a copy sitting on the shelves! And that's not exactly a coincidence, because much like Charis, the book is packed with fascinating info about art, music, and social justice. The menus are dedicated to different themes and people that interest Terry, like Shirley Chisholm, Grace Lee Boggs, and Funmilayo Ransome-Kuti, and interspersed with his own memories and interests, while giving information for those who are interested in further reading or volunteering for different causes. In this respect, it is much more than a cookbook. But just in case you have no interest in politics, history, music, the environment, or history (HA), you can still enjoy the recipes, which range from Southern soul food to Asian fusion to African cuisine. For me, being interested in all of those things (and how!) its the perfect drool-worthy cookbook that also inspires you to go beyond the pages and find out about all the cool people and movements he mentions.
I picked out a few recipes to cook for me and S.'s one month anniversary:
black eyes peas in garlic ginger braised mustard greens
, (or in my case, chard) and
molasses, miso, and maple candied sweet potatoes
. I served it with white rice rather than the suggested forbidden black rice, and it was totally delicious. The greens and beans were spicy and flavorful but still subtle in comparison to the juicy sweet potatoes that were bursting with strong flavors. Despite being an objectively healthy meal, this was still special occasion-type food that was really exciting to prepare and eat. We ate the meal with 'Dark & Stormy' cocktails, a mix of strong ginger beer and dark rum that is my new favorite special occasion cocktail.
For dessert I made another recipe from the book,
ginger-molasses cake
. (Its supposed to have walnuts but I didn't have any so I served it with peaches.) This was super easy to make with ingredients that most vegans would have on hand, and turned out really moist and delicious while still tasting very sophisticated and "different." It also looks like chocolate cake so its a fun way to trick guests. :)
I have no doubt that I'll be cooking plenty more from this tome and I hope that Terry keeps 'em coming.
Song of the Day: Fela Kuti- Water Got No Enemy